Dental Implants – Midland, TX
The Most Comprehensive Tooth Replacement to Date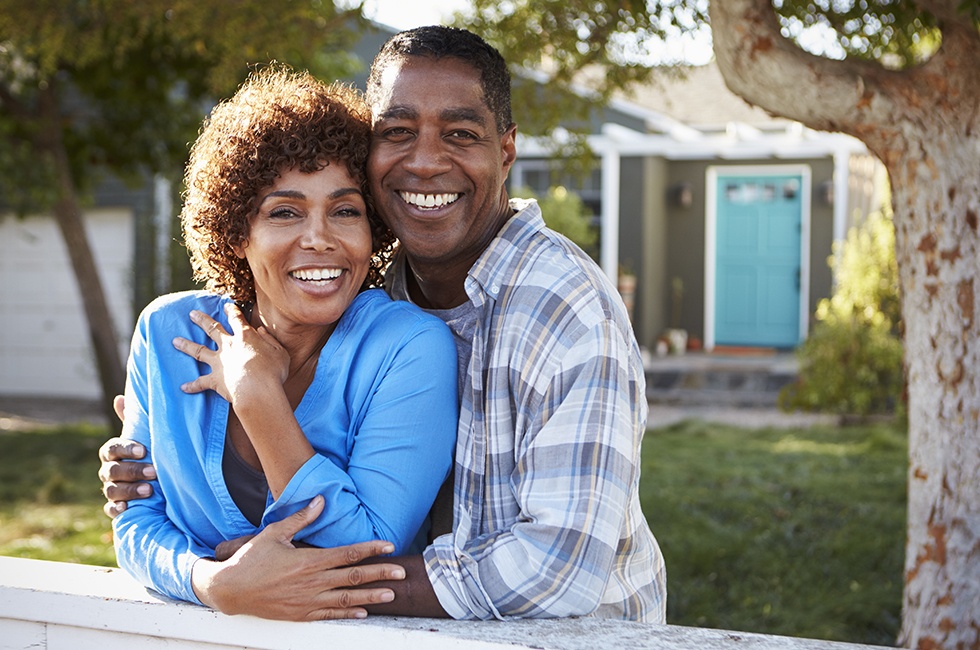 Tooth loss is more common than you might think. In fact, about 178 million American adults are missing at least one tooth. The traditional way to replace missing teeth is with a dental bridge or denture, but these solutions often come with setbacks that turn people off from tooth replacement entirely. Thankfully, dental implants in Midland, TX offer a long-term solution, complete with unique benefits you won't find with typical tooth replacements. Dr. Laura Philipps partners with the best dental implant experts in the area to ensure your treatment is of the highest quality. To schedule your first dental implant consultation, give our dental office a call today!
Why Choose Laura Philipps, DMD for Dental Implants?
Works with Midland's Best Dental Implant Specialists
Friendly, Talented Dentist with 20+ Years of Experience
Low-Interest Dental Financing Available
What Are Dental Implants?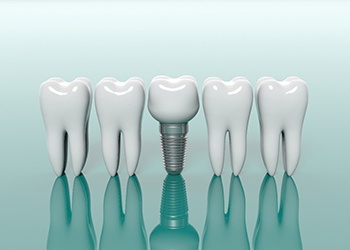 Dental implants are truly unique in that they replace the roots of a tooth beneath the gums as opposed to only the visible crown. The dental implant itself is a small titanium cylinder that an oral surgeon inserts directly into the jawbone. Titanium's biocompatible capabilities encourage the bone and tissue to bone to it, allowing the implant to function exactly like a real tooth root. Once this process is complete, Dr. Philipps can place a customized dental crown, bridge, or denture on top of the implants to replace the parts of your teeth that everyone can see. In the end, dental implants create replacement teeth that look and feel almost exactly like the real thing!
The 4-Step Dental Implant Process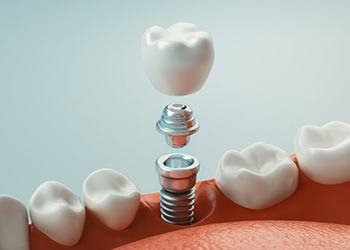 Dr. Philipps works with some of the most experienced dental implant specialists in Midland to complete the surgical portion of the dental implant treatment. As a result, you can expect your care to be in the hands of true experts.
While getting dental implants may be a much more involved process than other options like dentures or dental bridges, the results are well worth the effort! During your consultation, we'll go over each step of your treatment plan in detail so that you'll know exactly what to expect. For now, here's a simple outline of the four-step dental implant process.
Initial Dental Implant Consultation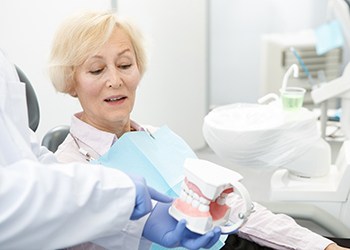 If you're interested in rebuilding your smile with dental implants, your first step will be meeting with Dr. Philipps. She'll review what your goals are, go over your medical history, and inspect your mouth to ensure you're a good candidate for dental implants. If we detect any signs of issues that could cause your dental implants to fail, such as gum disease, low jawbone density, or nightly teeth grinding, we'll plan to address them before starting your treatment.
Dental Implant Surgery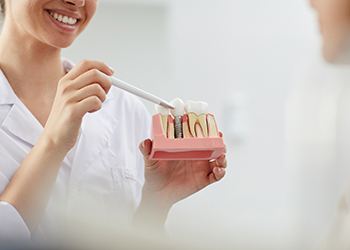 Once your oral health is on track, we can move onto the surgical placement of your dental implant. This relatively straightforward surgery starts with a small incision in the gum tissue. Then, your Midland implant dentist will insert a small titanium post into your jawbone to mimic the missing tooth's roots. The post is then covered with a cap to protect it during the healing process and maintain the shape of your gum tissue.
Dental Implant Osseointegration & Abutment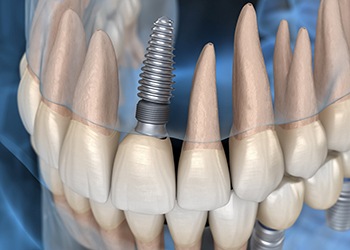 Over the next several months, your mouth will heal, and the dental implant post will gradually fuse with the surrounding bone tissue. This process is called osseointegration. Depending on how many dental implants you're getting, the state of your health, and how well you care for your smile during the recovery period, this step can take anywhere from three to six months to complete. While this may seem like a long time, the unmatched stability, longevity, and function you'll enjoy afterwards is well worth the wait! Once you've healed enough, a small connector piece called an abutment will be attached to the top of the post. As your gum tissue recovers from this step, we'll begin to design your custom-made dental crown, bridge, or denture.
Delivery of Dental Implant Restorations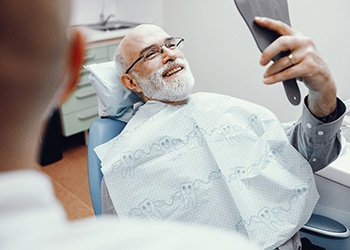 As soon as your final restoration has been created, you'll return to our office for the final step in your dental implant treatment. Using the abutment piece, we'll securely attach your new teeth to the dental implant post. We'll check that your bite feels comfortable and make any necessary minor adjustments, and then you'll be ready to start enjoying your newly rebuilt smile!
While dental implants may require a longer, more complex process than other tooth replacement options like dentures and dental bridges, we truly believe that they're a worthwhile investment in your long-term wellbeing. If you're ready to permanently replace your missing teeth with the next best thing, call us today to schedule your consultation!
Benefits of Dental Implants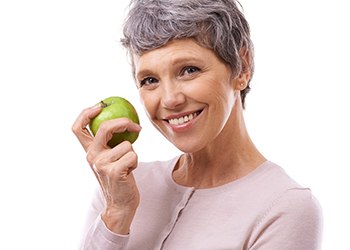 Since dental implants integrate with your existing bone and gum tissue, you can expect your tooth to last significantly longer than other tooth replacement methods. This is because dental implants are the only method that involves long-term integration with your mouth's organic structures, which is in stark contrast to how dentures and bridges function. The result is the most natural-looking and natural-feeling tooth replacement.
Not only do dental implants last longer, but they make basic tasks like chewing your favorite foods easy. Whether you're chewing your favorite cut of steak or you're biting into an apple, there's never any worry of your replacement tooth becoming loose or falling out. Additionally, dental implants maintain success rates as high as 98 percent, even after a 10-year period.
Who Dental Implants Can Help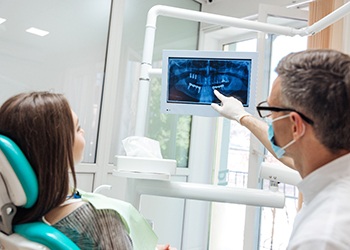 One of the reasons dental implants are considered so versatile is because they can be used to replace teeth in a variety of situations. Whether you're missing one tooth, multiple teeth, or all of the teeth in either of your arches, you can get them replaced with dental implants.
Missing One Tooth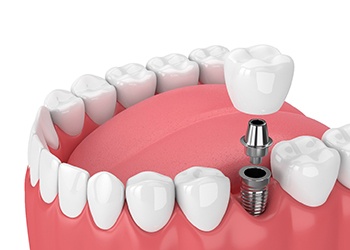 To replace just one tooth, a single implant is placed inside of the jaw, then closely monitored to ensure the healing process is successful. Afterward, an abutment is placed to both stabilize the eventual restoration and keep it attached in the long-term. A ceramic crown is placed on top, which keeps your smile looking natural.
Missing Multiple Teeth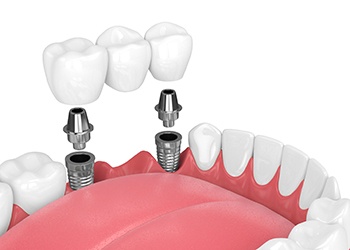 To replace multiple consecutive teeth at a time, a pair of dental implants can be placed to hold a dental bridge. Instead of modifying existing tooth enamel so it can effectively hold the restoration, the implants themselves do all of the heavy lifting. This is ideal if you don't want to affect your current tooth enamel.
Missing All Teeth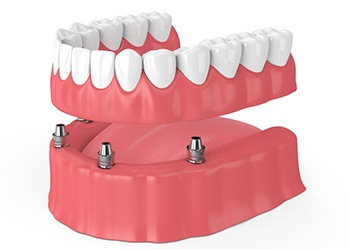 To replace all teeth in a given arch or multiple teeth on opposite sides of the mouth, an implant denture can be held with a series of dental implants. One of the benefits of this method is that you can often replace an entire arch of teeth with just four to six dental implants.
Understanding the Cost of Dental Implants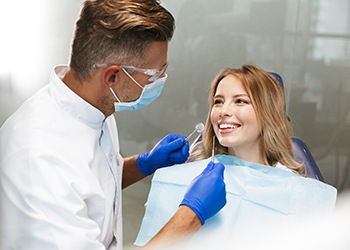 When we talk about the cost of dental implants, it's important to keep in mind that your treatment will likely vary depending on your needs. For example, if you need to replace multiple teeth, as opposed to a single tooth, your treatment will be longer overall, require additional planning, and involve more complex restorations, all of which cost more. Even though the cost is higher than traditional tooth replacements, dental implants are often seen as more cost-effective than bridges or dentures because they do not require the same level of maintenance, repairs, or replacements as other methods.
Types of Dental Implants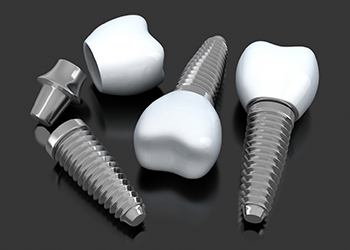 One factor that can impact the cost of your dental implant treatment is the type of restoration you require. For smaller replacement cases, such as a single missing tooth, you will only need one dental implant that supports a single customized crown. However, if you're missing an entire arch of teeth, you'll likely need anywhere from four to eight dental implants placed in order to hold a customized denture. When you visit our office for a consultation, we'll examine the extent of your tooth-loss and speak with you about what types of implant-supported restorations would help solve your issue. A good rule of thumb to go by is the more teeth you need replaced, the more costly the treatment will be.
What Are the Stages of Dental Implant Treatment?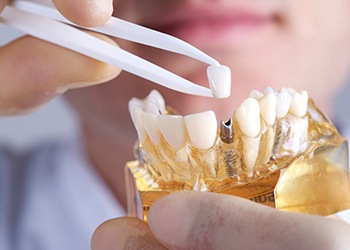 A great benefit of the dental implant procedure is that it takes place over the course of several appointments and months due to the healing periods involved. This allows patients to pay for individual appointments as they happen, making it easier to budget and financially plan so the procedure doesn't break the bank. There are several different parts of the treatment that may incur separate fees. Some of these include:
The consultation
Sedation needed during surgery
Surgery
Abutment placement
The creation and placement of the restoration
Are Dental Implants Worth the Investment?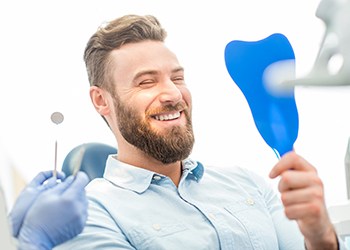 Patients and dental professionals will agree that dental implants are well worth the financial investment. They offer so many unique advantages that you won't be able to get with traditional restorations and that can preserve your overall wellbeing. Some of these include:
Prevention of jawbone deterioration
Better stability and strength
Preservation of facial structure
Boosted confidence
Does My Dental Insurance Cover Dental Implants?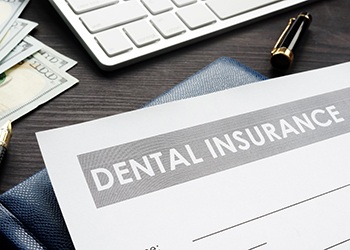 Unfortunately, most dental insurance providers don't cover the cost of dental implants due to the fact that they still consider them a "cosmetic" treatment. However, this is starting to change. That's why it's a good idea to always contact your provider directly to ask. Plus, Dr. Philipps offers additional financing options and will gladly help you learn more about new avenues of coverage.
Dental Implant FAQs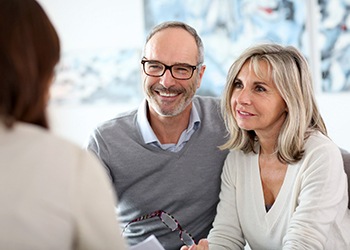 Even after reading all of the information above, do you still have questions about getting dental implants in Midland? To ensure that you have all of the information necessary to make a sound decision, we've answered some common questions we receive from our patients below about dental implants.
Does getting dental implants hurt?
The thought of having dental implants placed in your mouth may sound painful and daunting, but most patients are surprised to experience little to no discomfort during the surgery itself. Before the treatment begins, your oral surgeon will administer local anesthesia, which will completely numb your mouth so you can't feel a thing. However, you'll typically remain awake during the process so you will still be able to respond. Another factor that makes this process virtually pain-free is that the jawbone in which your implants are placed doesn't have many pain-sensing nerves in it.
If you feel nervous about the procedure, you can always speak to Dr. Philipps about sedation options to help calm your nerves before the surgery takes place.
What is the recovery process like after dental implant surgery?
For the days following your dental implant surgery, you may experience some tenderness and discomfort as your gums heal. However, this pain should be manageable with over-the-counter medications such as ibuprofen. You may also experience some bruising of your skin and gums or minor bleeding, but this is a typical effect and isn't anything to be concerned about. After your surgery, you can use a cold compress on your face to help reduce any swelling. Be sure to place it on the affected area for 10 minutes on/10 minutes off.
It's important to keep your mouth clean and regularly rinse with warm salt water throughout the following days. This will provide you with relief, soothe your sore oral tissues, and help clean the area. To help with tenderness, it's also important to maintain a soft diet as your gums heal.
How long will it be before I can use my new teeth?
Every dental implant treatment timeline differs depending on factors such as how many teeth you need replaced and what type of restoration you need to have crafted. Based on your needs, we'll let you know how long your individual dental implant procedure will take. Typically, the process occurs over the course of several months because it requires at least two healing periods. These are essential for the long-term success of your implants, and patients agree that the wait is well worth the benefits.
How successful are dental implants?
The modern dental implant procedure has been around for several decades and boasts an impressive 98 percent success rate. With the proper maintenance and care following your procedure, you can make a fast and problem-free recovery.