January 28, 2021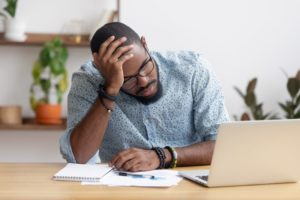 When you have a condition like depression or anxiety, your smile will show it in more than one way. Not only will you smile less often, but your oral health will reflect your condition as well. Recent studies show that there's a strong connection between mood conditions like stress, anxiety, depression, and loneliness and oral health problems. Thankfully, knowing what issues you're at a higher risk of can help you take the right steps to prevent them. Read on as your Midland dentist explains how your mental health and dental health are connected and what you can do to keep your smile in good shape.
Oral Health Conditions & Anxiety
Headaches, stomachaches, and restlessness are some of the most common symptoms associated with anxiety. However, studies show that it is also connected to oral health issues like:
Weakened or chipped teeth: Chewing nervously on hard objects like pen caps, ice, or your fingernails wears away at the enamel and dramatically increases your risk of chipping or cracking a tooth.
Tooth decay: Stress-eating sugary comfort foods can fuel cavity-causing bacteria in your mouth all day long, resulting in a boost of tooth decay.
Gum disease: Anxiety produces cortisol, which can reduce the body's immune system over time. In turn, this leaves your gums more susceptible to bacterial infection and gum disease.
Bruxism & TMJ disorder: Chronic stress can cause you to grind your teeth in your sleep, which is a condition called bruxism. Not only can this extra pressure potentially lead to sensitive, cracked teeth, but it can agitate the jaw joints and cause TMJ disorder.
Many times, your dentist will be able to spot the warning signs of these issues before you can. However, you should still let your dentist know if you have anxiety. They can work with you to address cavities and weakened teeth or create a custom nightguard to protect your smile from nightly teeth grinding.
Depression In Your Oral Health
When compared to anxiety, depression impacts your oral health less directly. Many people with depression struggle to stay motivated or focused, which can lead to:
Tooth decay: Similar to anxiety, depression can cause people to snack on sugary foods for long periods of time. Not only is this unhealthy, but it can significantly boost your risk of cavities.
Irregular oral hygiene: Those with depression may practice subpar and inconsistent oral hygiene. Neglecting proper brushing and flossing can lead to a host of oral health conditions, including dental infections and gum disease.
Missed dental checkups: Even the simplest tasks can seem overwhelming with depression, so many will postpone or skip their dental appointments. Unfortunately, this allows oral health issues that they're already at a higher risk of developing go unnoticed and untreated.
You should tell your dentist if you suffer from depression. They can work with you using treatments like fluoride and deep cleanings to help prevent oral health issues from developing.
If you have anxiety or depression, or suspect that you might, talk to your primary care physician right away about your treatment options. In the meantime, use these tips to keep your smile healthy as you get your mental health back on track.
About the Practice
Dr. Laura Philipps and her team are dedicated to the wellbeing of their patients in Midland and the surrounding communities, not just their smiles. She believes in a whole-body approach to dentistry in order to identify and treat problems at the source, not just address the symptoms. She is happy to help patients with anxiety, depression, and many other conditions get the personalized care they need to keep their smiles healthy. To learn more, she can be contacted via her website or at (432) 570-4433.
Comments Off

on How Your Mental Health Impacts Your Dental Health
No Comments
No comments yet.
RSS feed for comments on this post.
Sorry, the comment form is closed at this time.