March 24, 2021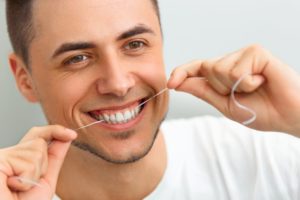 If you were fortunate enough to grow up in a home where your caretakers taught you proper dental hygiene, then you likely know that brushing your teeth every day is a must when it comes to warding off cavities and having fresh breath. While your toothbrush can obviously do a lot to clean your teeth, it shouldn't be working alone. Floss is a necessary sidekick that you shouldn't be ignoring. Keep reading to learn why.
Why is Flossing Your Teeth Every Day So Important?
There is a reason why your dentist asks you whether or not you've been flossing when you see them for a routine checkup. Did you know that an alarming 37% of people rarely floss and another 32% say they never floss at all! If you find yourself in either of those camps, you're obviously not alone. While flossing might not seem like the most enjoyable activity, it is crucial to the health of your teeth and gums, and here's why:
It Can Access Hard-to-Reach Places
Your toothbrush shouldn't be acting alone. While it's great for cleaning the surfaces of your teeth, there are plaque deposits and bacteria that build up between them that your toothbrush simply can't get to. Before you brush your teeth at night, run a floss thread in between and all around each tooth in order to dislodge cavity-causing plaque. That way, when you brush, the plaque has been loosened and your toothbrush can easily scrub it away.
Flossing Can Prevent Gum Disease
Your teeth are not the only part of your mouth that are susceptible to bacteria. Nearly 50% of the U.S. population suffers from gum disease, which is caused by bacteria getting lodged in and around the gums and then not being removed. When you floss, you should be gently wedging the thread down the sides of your teeth and moving it around the rims of your gums.
Your Overall Health Will Benefit from Flossing
Now that you know that flossing can prevent gum disease, it's also important to understand how that relates to your overall health. Research has shown that periodontal disease is directly connected to diabetes, stroke, and other heart conditions. Isn't it worth it to take 1-3 minutes out of each day to do something that can keep you healthy for a lifetime?
If you're the type of person who likes reminders, consider placing a note by your bathroom mirror or in a place where you'll see it every evening to remind yourself to floss. If you don't like using your fingers with thread, floss sticks are a great alternative and can often help to make the process easier. Do your teeth, gums, and overall health a favor and work flossing into your daily oral hygiene routine.
About the Practice
For over twenty years, Dr. Laura Philipps has been improving the dental health of patients and giving them the tools they need to have beautiful smiles. She believes that good oral well-being starts with education, so she makes it a priority to teach each of her patients how to properly care for their teeth and gums. She has years of continuing education under her belt, and this is what allows her to provide superior care. Are you ready to schedule your next dental checkup? You can book an appointment with us online or call (432) 570-4433.
Comments Off

on Why Should You Be Flossing On a Daily Basis?
No Comments
No comments yet.
RSS feed for comments on this post.
Sorry, the comment form is closed at this time.