April 22, 2021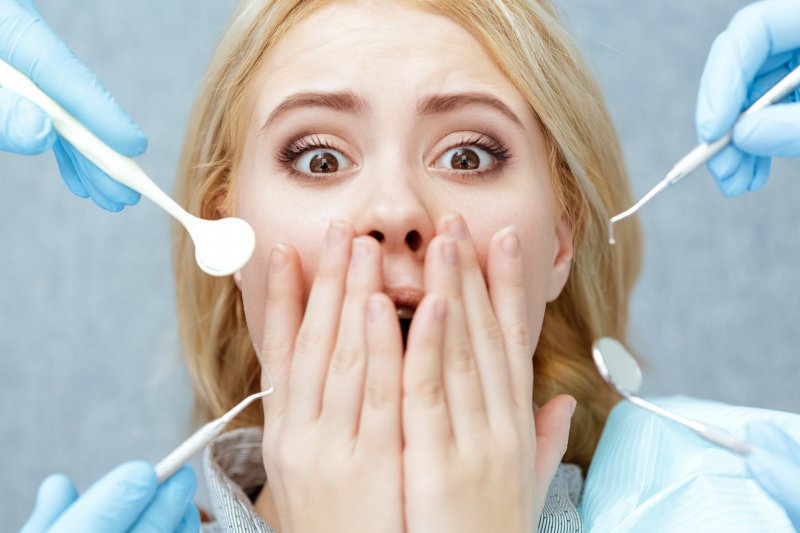 Do you get nervous at the idea of going to the dental office? This is much more common than you may think. Over 30 million Americans experience stress related to their dental visits. However, this doesn't mean that you need to avoid dental care. It is essential that you see a dentist regularly for checkups, as oral health and overall health are directly related. A dentist in Midland shares some tips to help you combat dental anxiety so you can have a more comfortable visit.
Listen to Music
For many people, it is the sound of the dental instruments that trigger anxiety. If this is what worsens your fear of the dentist, ask if you can put in your headphones and listen to music while they do their job. By putting on relaxing classical music, soothing nature sounds, or your favorite playlist, you will be able to drown out the background noise and hopefully have a more relaxing experience.
Focus on Breathing
This may seem like an obvious one, but many people hold their breath when they are in a stressful situation. It may be beneficial for you to practice some breathing exercises to help you feel more calm. Slow, regular breathing is an effective way of reducing stress.
Ask for a Step-by-Step Rundown
When you don't know what your dentist is doing, you might experience additional stress. When you come in for your appointment, ask if your dentist can let you know how they plan on treating you and in what order. They will be happy to give you a sequence of events of what you can expect during your visit in order to reduce your anxiety.
Pick a Good Time of Day
If your schedule is looking busy, adding a dental appointment to the mix isn't going to help. Choose a time and day that fits best into your calendar. This way, you can have more time reserved and not feel rushed.
Talk to Your Dental Team
If your dental team isn't aware that you have dental anxiety, they won't be able to do anything extra to make you feel more comfortable. Let them know if there is anything they can do in order to help you become more relaxed throughout the duration of your appointment. Address any concerns that you have as well. They will do everything they can to help you have a stress-free visit.
While a dental visit may not be your idea of a good time, it doesn't need to be a stressful experience. By using some of the steps listed above, you may find one that makes your appointments more tolerable.
About the Author
Dr. Laura Philipps is an experienced dentist who has been working in the field for over two decades so far. She earned her Doctor of Dental Medicine degree from Tufts University and is committed to continuing her education in order to keep her knowledge sharp and expand her clinical skillset. Currently, she is a member of the American Dental Association, Texas Dental Association, American Equilibration Society, and the American Academy for Oral Systemic Health. If you suffer from dental anxiety, she offers a couple different sedation options that can help. For more information or to schedule an appointment at her office in Midland, visit her website or call (432) 570-4433.
Comments Off

on How to Beat Dental Anxiety
No Comments
No comments yet.
RSS feed for comments on this post.
Sorry, the comment form is closed at this time.