December 6, 2022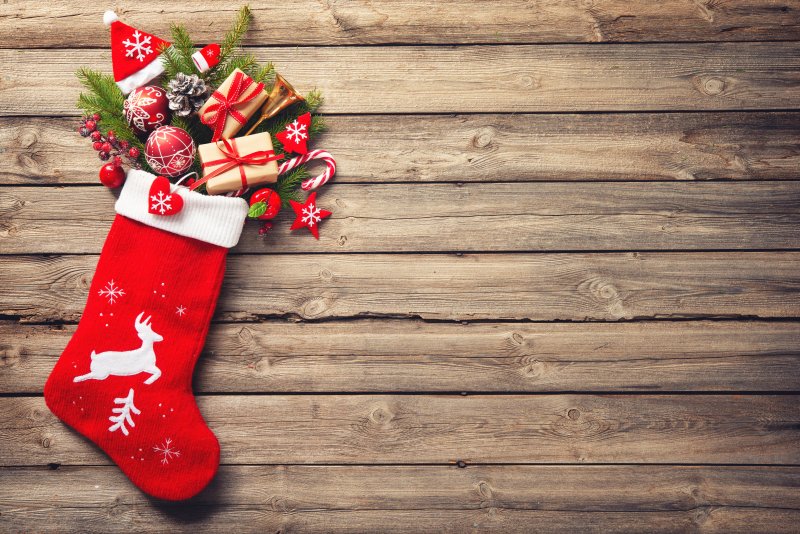 Christmas is only days away, and New Year's Eve will follow right after it. Given these facts, you should finish your holiday shopping before you're too late. You might not find any good gifts otherwise! That said, try to add some smile-friendly stocking stuffers to these last-minute purchases. They make amazing presents and keep your loved ones' teeth clean. As for what kind to buy, your dentist in Midland has a few ideas in mind. Here are four holiday gifts sure to help your family's smiles.
Water Bottle
Tap water is your teeth's drink of choice. The liquid not only washes away harmful bacteria but also has fluoride that strengthens enamel. As such, it's greatly at odds with soda and fruit juice, which have high amounts of tooth-eroding sugar.
In light of these things, drop some water bottles in this year's stockings. They'll encourage your kids (or your spouse) to get more H2O in their diets! If you want, you could even spring for "smart" bottles with sensors that track water intake.
Healthy Snacks
While it may be the holiday season, you don't have to put candy canes under the proverbial tree. In fact, please don't — they and other sweets can give your kids cavities.
Instead of such treats, you could gift your tykes some healthy snacks. After all, various ones both taste great and don't harm your teeth. Excellent examples of these include nuts, cheese, and even sugar-free gum. The gum, especially, would be ideal, as no-sugar kinds can increase saliva flow and reduce your mouth's acids.
Soft-Bristled Toothbrushes
A toothbrush might not sound like fun, but the right one can entertain kids like a toy can. Therefore, you really should place some in your tykes' stockings.
To find the best child-friendly toothbrush, consider entertainment value. For instance, you could buy a model (or two) with a favorite cartoon character. On the other hand, there's always the option of getting a brush that plays music. Whatever you decide, a toothbrush that catches your kiddies' attention will help them stick with good oral hygiene.
Flavored Floss or Mouthwash
While mint is the default flavor for most dental products, not everyone enjoys it. You might, then, want to give your family some mouthwash or floss that taste different. At your local pharmacy or supermarket, you can find brands with flavors like orange, cinnamon, watermelon, and more.
Still, make sure to remember safety during the selection. When buying mouthwash, you should thus look for the ADA Seal of Approval on what you find.
Ultimately, stocking stuffers can delight your smile as much as your heart. That being the case, get the ones above as suggested by your dentist in Midland!
About the Author
Dr. Laura Philipps is a dentist based in Midland, TX, having earned her DMD from Tufts University. She's also a member of the American Dental Association and the Texas Dental Association. Given this background, her specialties are preventive, cosmetic, and restorative treatments, not to mention TMJ and gum therapies. You can thus count on her for a wide range of dental services! Dr. Philipps currently practices at her self-titled clinic and is reachable on her website and by phone at (432)-570-4433.
Comments Off

on 4 Mouth-Healthy Stocking Stuffers for the Holidays
No Comments
No comments yet.
RSS feed for comments on this post.
Sorry, the comment form is closed at this time.