March 23, 2023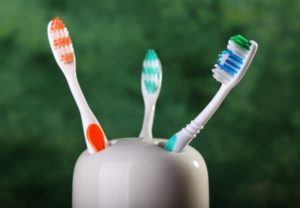 Spring is in full swing, which means it's time to declutter your home and clean those nooks and crannies that have hardly been touched throughout the year. While it's great to start spring and summer off with a clean house, it's also important to do a seasonal refresh of your dental hygiene routine to make sure that your oral health stays on the right track. Read below for four tips to renew your dental hygiene routine while you're on your spring cleaning kick.
Change Out Your Toothbrush
Did you know that the American Dental Association recommends switching out your toothbrush every three to four months? This is to prevent bacteria from accumulating on its head, causing transfer to your mouth that could increase your risk of infection or illness.
When replacing your toothbrush, be sure to get one with soft bristles. Despite what many people believe, medium and hard bristles don't actually clean your teeth better. They pose more of a threat by damaging your enamel and gum tissue.
Don't Forget to Clean Your Toothbrush Holder
Did you know that your toothbrush holder is likely one of the dirtiest objects in your home? Right after you brush your teeth and rinse off the toothbrush, you put it in the holder and all of those germs drip onto the top and into the bottom, leading to gunk and bacteria build-up. However, many people don't see that their toothbrush holders are dirty, so they don't think to regularly clean them. This spring, and every so often after your upcoming cleaning spree, be sure to wash it regularly to remove any gunk. To make this easier, just stick it in the dishwasher!
Check the Expiration Dates of Your Mouthwash
Dental hygiene products like mouthwash can expire, especially prescription ones, so it's important to check their best by dates while you're decluttering. Typically, mouthwashes last for two years after their manufacture date because the active ingredients aren't deemed as effective after this period of time. If this is the case for yours, it's time to get a new bottle!
Schedule Your Checkup & Cleaning with Your Dentist
The most important task on your spring cleaning to-do list is to schedule a checkup and cleaning with your dentist. These routine visits help identify any early signs of oral health problems before they have a chance to become worse, requiring more extensive treatment. Professional cleanings also help minimize the accumulation of plaque and tartar within the mouth, minimizing your risk of developing common issues like cavities and gum disease until your next routine visit.
About the Author
Dr. Laura Philipps has over two decades of experience practicing dentistry. She loves empowering her patients by providing them with the skills and knowledge necessary to make smart and healthy decisions for their oral health. She offers a wide range of services, from routine checkups and cleanings to more advanced gum disease and sleep apnea therapy, so they can take care of not just their teeth, but their overall wellness. For questions or to schedule an appointment, visit her website or call 432-570-4433.
Comments Off

on 4 Dental Spring Cleaning Tips to Keep Your Smile Healthy
No Comments
No comments yet.
RSS feed for comments on this post.
Sorry, the comment form is closed at this time.