March 23, 2023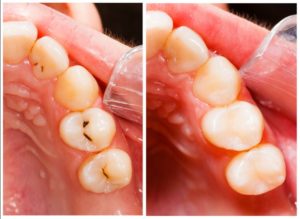 One of the most common dental problems people face is cavities, which leads to an estimated 175 million tooth-colored fillings being placed by dentists every year. If you've had a filling in a tooth for a while, you may be wondering when you can know when it needs to be replaced. Read on to learn some important facts about your tooth-colored filling so it can continue protecting your smile for years to come.
The Lifespan of Tooth-Colored Fillings
A review published in 2010 in a professional journal called Materials found that composite resin, or tooth-colored restorations, have grown in popularity not only because of their natural appearance, but also due to their lengthy lifespan and durability. It reported that on average, these fillings can last for an estimated seven years, while another article published in the Journal of Dental Research in 2014 reported that they can last for up to 10 years.
While these allow us some insight into the maximum lifespan of your restoration, this can vary from person-to-person based on their individual habits, diet, and dental hygiene practices.
Tips for Extending the Life of Your Filling
To get the most out of your dental filling, it's a good idea to break bad habits and implement ones that can preserve your restorations. Here are some tips to make that happen:
Brush twice a day using a soft-bristled toothbrush and fluoride toothpaste.
Floss at least once a day.
Eat a well-balanced diet and limit your sugar and carb intake.
Visit your dentist for bi-annual checkups and cleanings.
Signs Your Tooth-Colored Filling Needs to be Replaced
If your filling is coming towards the end of its lifespan, you may want to keep an eye out for some of these common signs that it needs to be replaced:
Your teeth are more sensitive to hot and cold items.
The filling looks cracked or otherwise damaged.
You just sustained oral trauma that could have damaged your filling.
The filling looks discolored.
When you attend your bi-annual checkups with your dentist, these will also allow them to make sure that the seal on your filling is still tight and secure, and if necessary, replace it before it has a chance to allow bacteria to compromise the health of your treated tooth.
With the proper maintenance and a mindful eye, you can preserve your natural tooth and keep it from sustaining additional damage, allowing you to continue enjoying it for the rest of your life!
About the Author
Dr. Laura Philips has two decades of experience helping patients of all ages maintain healthy and happy smiles. She provides natural-looking and feeling dental restorations like tooth-colored fillings to help address common oral health problems like cavities. With routine care and preventive education, she aims to help all of her patients enjoy a complete set of pearly whites for their entire lives. For questions or to schedule a checkup and cleaning, visit her website or call 432-570-4433.
Comments Off

on How Long Do Tooth-Colored Fillings Last?
No Comments
No comments yet.
RSS feed for comments on this post.
Sorry, the comment form is closed at this time.