April 11, 2023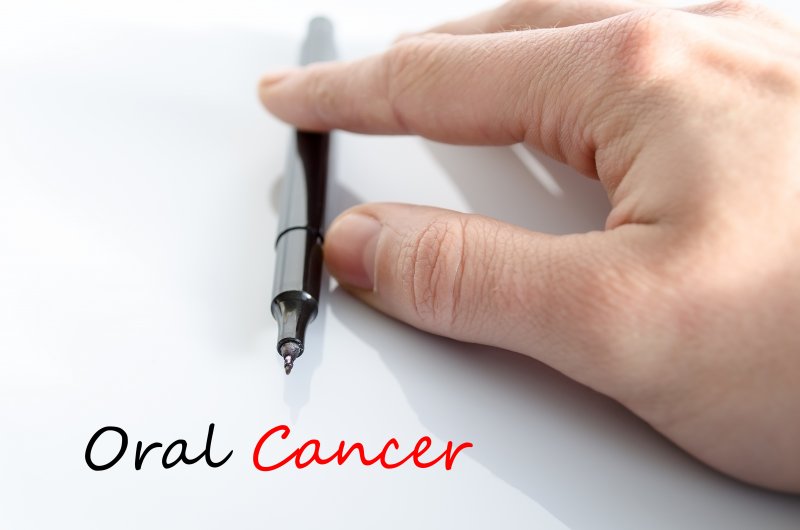 When visiting the dentist's office, you probably assume that the only thing they'll be checking is if you have cavities, tooth decay, or gum disease. Although necessary and indeed part of the examination, there is another component you might not realize is just as important – oral cancer screening. Read on to learn about the signs of oral cancer and what you can do should you discover an abnormality inside your mouth.
How Common is Oral Cancer?
When hearing the word "cancer," you likely think of other, more common forms such as breast, prostate, ovarian, brain, or even stomach. But what about oral cancer? Although it may not be as widely discussed, it poses the same serious threat.
It is estimated that 54,000+ individuals are diagnosed with it each year in the United States. While people who smoke and drink excessive amounts of alcohol are more prone to it, the disease can develop in those who exhibit no risk factors.
What Are the Signs of Oral Cancer?
One of the hardest aspects of oral cancer is that many of the symptoms and signs can remain dormant, be misdiagnosed, or even go undetected for a long time. In fact, many patients do not realize they have it until the cancer has spread and it becomes too late to treat.
This is why it's essential that you recognize the signs early on so that you can get the help you need. When it comes to oral cancer, you may discover:
Red or white patches of discoloration
Bad breath
Lumps, lesions, or sores that form on your cheeks, gums, tongue, or other areas of the mouth or throat
Oral sores that bleed easily
Sore throat
Difficulty swallowing
Persistent cough
How Can a Dentist Help?
If you should notice any of these symptoms at any point, call to schedule an appointment with your dentist right away. While oral cancer screenings are performed during regular checkups, you may find that you need to see your dentist sooner, especially if there are still several months before your next scheduled visit.
Early detection is known to be essential when it comes to oral cancer, as treatment is likely to be more successful should a problem be discovered. With these regular screenings, your dentist can pinpoint any areas of concern before directing you to a local specialist who can provide a formal diagnosis.
Seeing the dentist for a checkup and cleaning is more than ensuring the health of your teeth and gums. You'll discover that they serve as a proactive step in reducing your chances of oral cancer going undetected and thus potentially saving your life.
About the Author
Dr. Laura Philipps is a trusted dentist in Midland who believes in providing exceptional dental care to ensure her patients' overall health and well-being. Completing her Doctor of Dental Medicine degree at Tufts University, she regularly pursues continuing education to hone her clinical skill set. Committed to preventive care and how it can positively impact a person's oral and overall health, she offers oral cancer screenings to patients so that early detection remains the first line of defense. Contact us at (432) 570-4433 to learn more.
Comments Off

on What Are the Signs of Oral Cancer?
No Comments
No comments yet.
RSS feed for comments on this post.
Sorry, the comment form is closed at this time.