May 25, 2023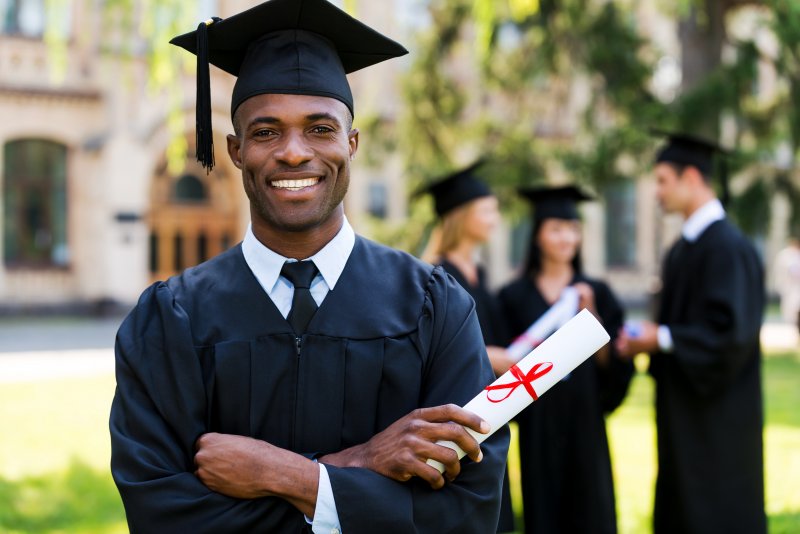 For some students, summer's arrival means more than vacations and sunny days. It also marks their graduation from high school or college! Perhaps, then, you're thinking of gift ideas for the graduate in your life. If so, your Midland dentist has a suggestion: give them some cosmetic dentistry for the upcoming event. Its procedures can make the ceremony all the better. As for which ones, look at these three cosmetic dental treatments for graduating students.
Teeth Whitening
One cosmetic dental option for graduates is teeth whitening. Per its name, this treatment visibly whitens your enamel by several shades and removes tooth stains. The result is a nice and bright smile for graduation.
With whitening, though, keep in mind that two types are available. The first is the in-office method, which whitens your grin quickly but at a loftier price. Meanwhile, the second – take-home whitening – takes at least two weeks to work and costs less.
Cosmetic Dental Bonding
Of course, there's a chance your student doesn't require whitening. Maybe they only need something to hide slight smile flaws. For that scenario, cosmetic dental bonding is the ideal choice.
Also known as cosmetic bonding, this treatment covers light tooth stains, chips, and cracks. It works by applying enamel-colored resin to the affected areas. From there, your pearly whites could look good as new and blend seamlessly with the rest of your smile. Best of all, the procedure isn't expensive, and its effects can last years if given proper care.
Porcelain Veneers
If all else fails, you could gift your graduate with porcelain veneers. This option's versatility ensures it transforms a student's smile from the ground up!
To put matters simply, veneers are porcelain shells placed on the fronts of teeth. Their function is to hide a wide range of smile flaws – stains, chips, cracks, misalignments, etc. Thanks to their high-quality material, they blend naturally with the surrounding tooth enamel one's smile. In exchange, the placement process removes bits of enamel and is expensive.
Should you settle on veneers, note that the student should start treatment at least a month before graduation. The placement, you see, takes multiple visits spaced out over weeks. As a result, beginning the veneer process too late will mean the shells won't be ready in time for the ceremony.
Ultimately, cosmetic dental treatments for graduating students are worthwhile. Consider those above, then, as you honor your soon-to-be graduate!
About the Author
Dr. Laura Philipps is a dentist based in Midland, TX, having earned her DMD from Tufts University. She's also a member of the American Dental Association and the Texas Dental Association. Given this background, her specialties are preventive, cosmetic, and restorative dentistry, as well as emergency smile procedures. You can count on her to give you a healthy and beautiful grin! Dr. Philipps currently practices at her self-titled clinic and is reachable on her website and by phone at (432)-570-4433.
Comments Off

on Cosmetic Dental Procedures for Graduating Students
No Comments
No comments yet.
RSS feed for comments on this post.
Sorry, the comment form is closed at this time.