June 22, 2023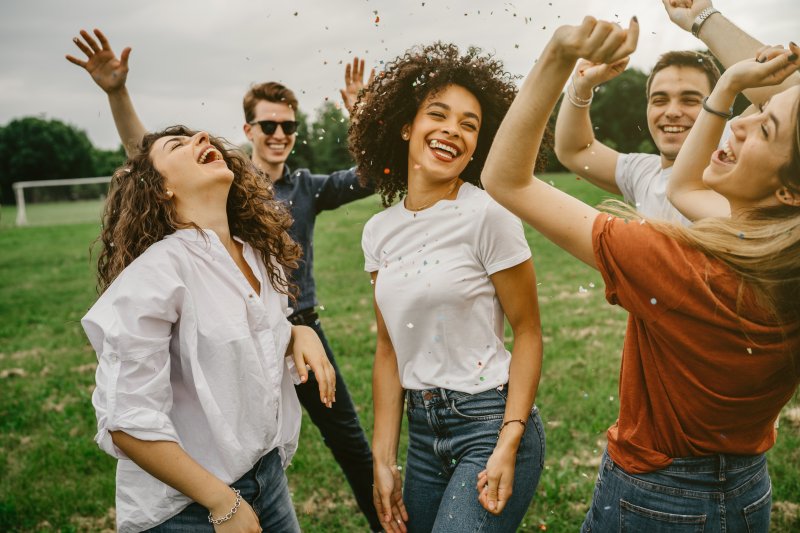 For many, summer is a season of socializing. Fun in the sun offers many chances to meet new people and chat! Still, you might find the idea of making connections scary. Maybe you want to learn how to seem more approachable first. As it happens, though, your Midland dentist knows how to help with that task. Here, then, are a few crucial tips on being likable and making others feel comfortable around you.
Use an Open Body Posture
If you want to talk with someone, you must show you're engaged. Demonstrating openness to conversation, you see, is crucial. Thankfully, you could always adopt an open body posture. This way of carrying yourself implies you're friendly and non-threatening.
To express open body language, adopt the following actions:
Keep your shoulders up and without slouching
Lean back slightly when seated
Maintain your hands at your side
With these positions, you'll help others feel comfy enough to chat.
Make Proper Eye Contact
To put your peers at ease, maintain proper eye contact with them. Looking someone in the eyes makes you appear personable. Plus, the habit proves you're listening and generally value the person.
You could do a few things to strengthen your eye contact. For example, one approach is to blink occasionally so you don't seem like you're staring. Another, meanwhile, is to give an extra second of eye contact after shaking a person's hand.
Don't Stand Too Far from Others
When you feel uncomfortable, odds are you put distance between yourself and others. (You might not even know you're doing so.) However, this behavior implies a disengaged attitude to surrounding people. As a result, friends and strangers may not open up to you as much.
Of course, a far distance can easily be corrected. Just move a bit closer when you notice yourself drifting back.
Flash a Pretty Smile
More than anything else, a pretty smile is vital to a friendly look. Revealing your pearly whites is an expression of goodwill. At the same time, it attracts others with a beautiful face.
Naturally, a dentist can improve your grin's beauty. Their cosmetic procedures –  teeth whitening, dental bonding, porcelain veneers, etc. – leave many smiles at a Hollywood level. You'd then be able to charm anyone with your gleaming teeth.
If you want to seem more approachable, you don't have to work too hard. Just use the tips above to connect with others quickly!
About the Author
Dr. Laura Philipps is a dentist based in Midland, TX, having earned her DMD from Tufts University. Her twenty-plus years of dental experience empower her to meet patient needs. In particular, she's quite skilled at preventive, cosmetic, and restorative services, as well as emergency dentistry. You can thus trust her to provide you with a healthy, beautiful smile! Dr. Philipps currently practices at her self-titled clinic and is reachable on her website and by phone at (432)-570-4433.
Comments Off

on How to Appear More Approachable
No Comments
No comments yet.
RSS feed for comments on this post.
Sorry, the comment form is closed at this time.