July 11, 2023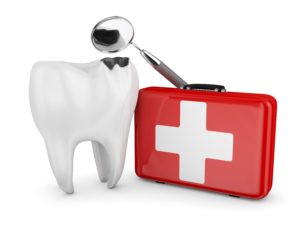 Everyone knows that accidents happen despite our best intentions, and summer vacation is no exception!  Planning in advance can help you avoid a dental emergency while you're traveling or away from home, but even then, there's no true guarantee that something won't go wrong. Read on the learn some ways to manage if you find yourself in a dire situation.
Hope For The Best, But Prepare For The Worst
There are steps you can take before you leave on vacation that can ensure you're ready should the worst come to pass. For example, you can schedule an appointment to visit your dentist for a checkup prior to going out of town. This way, your dentist can spot and stop anything problematic before it becomes a risk.
You can also research dentists in the area that you'll be visiting and see if they take your insurance. Taking the time to find information about who to contact if something happens can ensure your safety in a worst-case scenario, and also offer you some comfort in an unfamiliar location.
Is It An Emergency?
It can be hard to know what kind of problem requires relief right away and what can wait until you get back home from your travels. After all, you don't want to waste your vacation in a dentist's office, but you also don't want to put your oral health in jeopardy! Minor dental emergencies like a lost filling or chipped tooth can wait to be seen by your regular dentist back home, however, it is imperative that you seek an emergency dentist if you experience:
A broken or cracked tooth
A dislodged or knocked-out tooth
A small pimple-like bump on your gums
Severe pain that doesn't fade or grows worse
These types of issues all call for immediate assistance from a dentist to prevent permanent damage. If you experience a severe situation where your jaw has been broken, you have bleeding from the mouth that hasn't stopped after 5 minutes, or you are having trouble breathing, you should go to the nearest emergency room instead.
What To Do In An Emergency
Should something happen, you might be scared or anxious about what steps you can take until you can make it to a professional. There are things you can do to help yourself in that circumstance, like:
Rinse your mouth with saltwater. This will keep your mouth clean and kill off harmful bacteria.
Control any bleeding. If you've sustained an injury, you'll want to be sure to put pressure on the wound with gauze or clean cloth. If it persists, head to the local ER.
Preserve any lost restorations or teeth that have been knocked out, which could be used for repair and recovery.
If you are in pain, take over-the-counter pain medication or apply a cold compress to reduce swelling.
Hopefully, you will never have the need to follow these tips, but knowing what steps to take just in case give you the peace of mind you need to truly relax this summer. Now, you can unwind and make the very most out of your vacation!
About the Author
Dr. Laura Philipps believes in a whole-body approach to dental care that focuses on the overall wellbeing of each patient. She earned her Doctor of Dental Medicine at Tufts University and has dedicated herself to creating healthier lives for over two decades. If you would like a checkup before you travel, you are welcome to reach out to her practice on the website, or by calling (432) 570-4433.
Comments Off

on Handling A Dental Emergency On Vacation
No Comments
No comments yet.
RSS feed for comments on this post.
Sorry, the comment form is closed at this time.